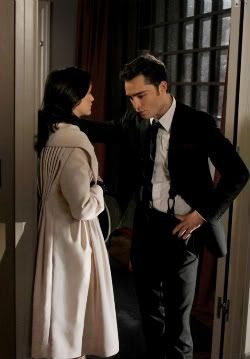 Best. Gossip Girl. Episode. Ever.
True, that is an hour (well, more if you count how many times I had to rewind and rewatch...) that I could have spent studying for my Political science final tomorrow, but I HAD to watch it.
Gossip Girl is much more than a TV show for me. It's a part of my schedule. I wait all week for Mondays at nine o'clock. It's the highlight of my life. And I know it goes against everything I believe in, and I am just another victim of society's use of the media to dumb down the masses, but I don't care.
And after watching Chuck Bass Gossip Girl last night I have realized just how incomplete my life is. If you don't watch Gossip Girl, I feel so, so, so, so sorry for you. You are like someone who has only showered their entire life, and never known the luxury of a bath. Like someone who has only ever worn shoes from Payless, and never tried on owned a pair of Louboutins in a Saks fitting room.
(Hey CW, you should hire me!!!!)
And most of all, you are missing out on Chuck Bass. To be honest, he's the only reason I watch the show. His character's so deeply flawed, but saved, he's grown so much in two seasons, he's it's beautiful.